PRODUCTS









XDS Under Vehicle System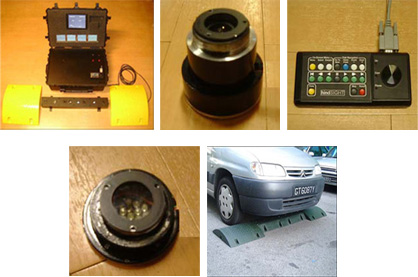 The Under Vehicle Surveillance System (UVSS) is designed to enhance surveillance capability by aiding users in scrutinizing the undercarriages of all types of vehicles in seconds.
The system includes a Ramp Observation Unit and a Portable Receiving Unit. It can be dismantled into multiple sections for easy transportation and storage.
The Ramp Observation Unit consists of two side ramps with built-in cameras and LED lights. This unit should be attached to a rubber mat and placed on the ground for temporary use. For long term or permanent installations, the unit can be bolted to the ground. Upon activation, the cameras automatically transmit the video signals to the Receiving Unit. The Portable Receiving Unit is contained in a rugged sealed briefcase. It includes fiveLCD monitors, digital recorder and controller. The video images are automatically recorded and displayed on the LCD monitors with date and time signatures.
UVSS is easy to use and requires minimal training. Controller features include on/off of all devices, rewind/forward of recording for verification or slow motion replay. Effective and efficient, the system enables users to conduct quick and thorough inspections of vehicles entering the premises.
Technical Specifications:
Ramp Observation Unit (ROU)
| | | |
| --- | --- | --- |
| Camera | Type | Colour |
| | Image Sensor | ¼" interline transfer CCD |
| | Resolution | 470 lines |
| | S/N Ratio | 47 dB |
| | Sensitivity | 1 lux |
| | Electronic Shutte | Automatic |
| | Power Supply | 12 VDC |
| | Power Consumption | 20 mA |
| | Lens | 2 to 6 mm |
| | Field of View | 70o |
| Light | Type | LED |
| Dimension | Side Ramp | 100 x 50 x 10 cm |
| | Ramp Observation Unit | 87 x 11 x 8 cm |
| | Overall View | 150 x 50 x 10 cm |
| Material | | Mild Steel |
| Environmental | | IP 65 rated |
Portable Receiving Unit (PRU)
LCD Monitors
6.4" x 4 units, 10" x 1 unit
Digital Video Recorder (DVR)
Compression
Wavelet
Hard Disk Storage
36, 50 or 100 GB
Features
Record/Play/Fast Forward/Fast Reverse/
Freeze Frame
Fast/Slow Motion
0 to 16 time Forward/Reverse
Remote Control
87 x 11 x 8 cm
Battery
4 x 12V 7AH rechargeable battery
Dimension
31 ½" x 20 ¾" x 11 ½"
Weight
Approx 25 kg
Operating Hours
Approx 3 hours continuous
Connector
Amphenol (mil specs)
Environmental
IP 65 rated