PRODUCTS









XDS TP-1100 Turnstile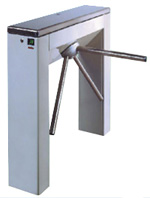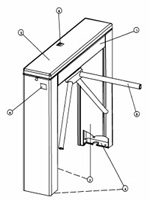 Tripod MOD. TP-1100
The Tripod is made with materials giving the final finish great resistance to environmental agents and in particular the use of stainless steel guarantees a better resistance against wear and tear.
This standard product is made with AISI-304 stainless steel or painted carbon steel. We suggest the use of AISI-316 stainless steel for installations in saline environments.When we push the arm and it is locked it will open as soon as it receives an electric impulse. After a rotation of 60 ° it will no longer be possible to return to the initial position and the rotation must be completed.
The electronic part has a microprocessor offering the possibility to change the settings from the console and it consist of two cards, one card for management and the other one for the power supply inside the structure. The power supply cables come from below and they can be installed easily inside the structure through a panel.
Technical Data
| | |
| --- | --- |
| » Power supply: 220V 50 Hz. monophase. | » Function Temperature: from -10° to +50°. |
| » Tension : 24 Vcc. | » Humidity: 90%. |
| » Electromagnets: Working 100%. | » Power supply: 24V 2A. |
| » Consumption: 15 W. | » Weight: 62 Kg. |
| » Shock absorber: Hydraulic adjustable. | |
1. Metal parts are made with AISI-304 or AISI-316 stainless steel or with carbon steel painted 20/10 in thickness and internally supported.
2. Stainless steel or painted carbon steel 15/10 thick cover panel. It can be removed completely for easy reach to the technical area and it can be locked with key (2 keys are supplied).
3. Stainless steel or painted carbon steel 15/10 thick cover door. It allows you to access the electronic main board and it is closed with a screw that cannot be accessed unless the locked cover has been removed.
4. 8 mm stainless steel bases coated with zinc. They have 2 holes for ground fixing (screws are supplied) and a hole in the centre for the cables.
5. Tubular arms in stainless steel with an external diameter of 38 mm and 15/10 thick put on an aluminium hub.
6. Flashing signal.