PRODUCTS









XDS Compact Flap Barrier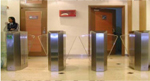 Compact Pedestrian Flap Barrier - CPFB 836mm/520W
Description
The compact pedestrian flap barrier is designed to control pedestrins entering or exiting restricted areas usually under surveillance, and in particular low security areas. Passage frequency is 30 people per minute.
Commonly used to control both directions, the barier may operate with card access, token acceptor or other remote device which produces a clean contact closure for authorized passge.
Housing
The fabricated housing is folded from either 2mm thick electro-galvanized steel sheet or 1.5mm thick stainless steel of different grades. An epoxy powder coat provides corrosion protection and an attractive finish. The modules are then assembled together by bolts and nuts to form the housing.
Technical Data
» Drive system incorporates a 100% Duty cycle 60V Ac 50 HZ torque motor
» No Limit switches or slip clutches
» When in closed position, continous 60V AC will prevent flaps from being forced open
» In the event of power failure, flaps open automatically by return spring and can also remained closed upon request
» Minimum noise with cushoning rubber buffer and dynamic braking
» End modules with reserved space for card reader, token container and optional LED signage
» Red polyethylene flap for better visibility
Areas of Application
| | | |
| --- | --- | --- |
| Train Stations | Passenger Terminals | Ferry Terminals |
| Checkpoints | Airport Terminals | Sport Stadiums |
| Factory Production Areas | Recreational Facilities | Administration Buildings |
| | |
| --- | --- |
| Motor Power Consumption | 20 Watt |
| Motor Running Voltage | 60V AC |
| Torque | 0.95 NM |
| Open/Close Time | 0.45 sec |
| Protection | IP 20 |
| Voltage | 60V AC |
| Frequency | 50 HZ |
| Ampere Per Motor | 0.54A |
| Duty Cycle | 100% |
| Ambient Temp | -10degC to +40Deg C |
| Flap Material | Acrylic Sheet |
| Weight | 90 Kg |