PRODUCTS









XDS Bomb Detection Kit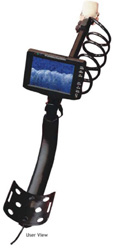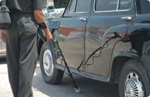 The Worlds most versatile, portable, trusted Bomb Detection Equipment. Used for explosives / narcotics / weapon searching under and over vehicles, over-hidden areas, under almirahs, luggage, holes, etc where accessibility is risky, tough and illumination low /Nil. Also an ideal tool for bomb disposal, counter-terrorist operations etc. Completed visibilit/detection using minimum risk.
Must for : Airports, VVIP security, Parliament, Important strategic buildings, car parkings, Hotel, Shoping Malls etc.
Fool Proof Solution for checking, especially in night. Vision in complete darkness upto 10 meteres.
Used in :
» US Army in Iraq
» Australian Defence Forces
» UAE Police
» Indian Army
Features :
» 5.5/5.0 inch TFT LCD (Slim line) with audio-video colour display, conforming to ISEC stadards with remote and ear phone
» IR LED illuminated camera, conforming to IP 57 standards which illuminates even under 0 Lux, Effective range of camera above 10 meters. Also has inbuilt microphone for higher survelillance application.
» Rotating, Telescopic stand, extendable upto 1.3 meters
» Portable rechargeable SMF battery packs with 12 hours backup time
» Batteries can be charges from AC supply/car cigarette lighter. It has inbuilt universal charger, charging from 70 to 270V AC
» The entire system is packed in heavy duty, impact resistant durable suitcase
» Comes with heavy duty glass filled injection moulded arm rest for long easy fatigue free operation
» The system is light in weight, water resistant, and very flexible to suit different application requirement