PRODUCTS









FOMGuard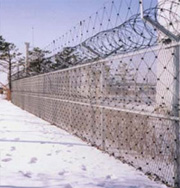 FOMGuard - Fibre Optic Mesh Intrusion Detection System
The FOMGuard Intrusion detection system, surrounding and protecting important facilities, shall detect intrusion by generating audible alarm and pinpointing an intrusion spot on a display map within ±15m accuracy. FOMGuard is based on Fiber Optic Mesh Sensor and Optical Radar Technology.
FOMGuard was originally developed for Korean Border (DMZ) in 1982 by ADD (Agency for Defense Development). Throughout its domestic applications in Korea, the system has been evaluated as new and superb over any other products currently introduce around the world.
Following the Sep 11th terrorist incident in 2001, eleven US Pentagon FCT (Foriegn Comparative Testing) specialists visited Incheaon International Airport and Incheaon LPG Reservoir in Korea to test the operational performances of FomGuard. In 2002, US Congress approved FOMGuard for a standardization and qualification test at Eglin US Air Force Base to apply it for teh protection of US Military facilities.
FOMGuard offers a unique solution that provides 100% full proof detection of intrusions from digging to climbing over fences and it is applicable for all terrain conditions and fence types without the concern of false alarms. It gives the maximum cost-benefit solution in protecting important facilities such as air force bases, airports, missile sites, nuclear power plants, gas/oil/water reservoirs, electric power plants, military headquarters, military sites, palaces, jewelry/semiconductor factories, jails, government buildings, borders, VIP residential areas etc. against highly trained intruders such as spies, terrorists or guerrillas.